THE GLOBAL BIBLE

The portable Word Bible, now available at the National Bookstore, is a compilation of words of wisdom of various gods and religions which were believed to be the way to heaven, a Utopian world on earth! Orwellian! The paper cover artwork shows Satanic symbols of Triquetra (666), Horus eyes, Yin Yang, Lotus (used in meditation), and various occult logo. We just recommend you to buy and see for your self "The World Portable Bible" It's high time to pray for Christ's return because this is the height of the rise of EVIL "BIBLES" AND BIBLE VERSIONS!!!
Last edited by Admin on Mon Mar 30, 2009 12:41 pm; edited 5 times in total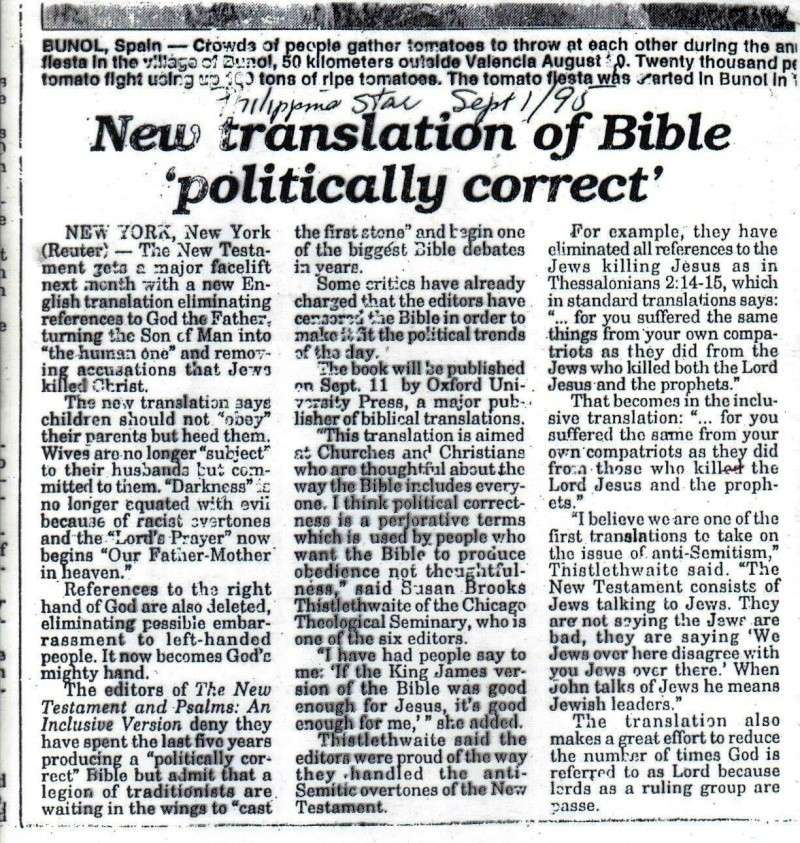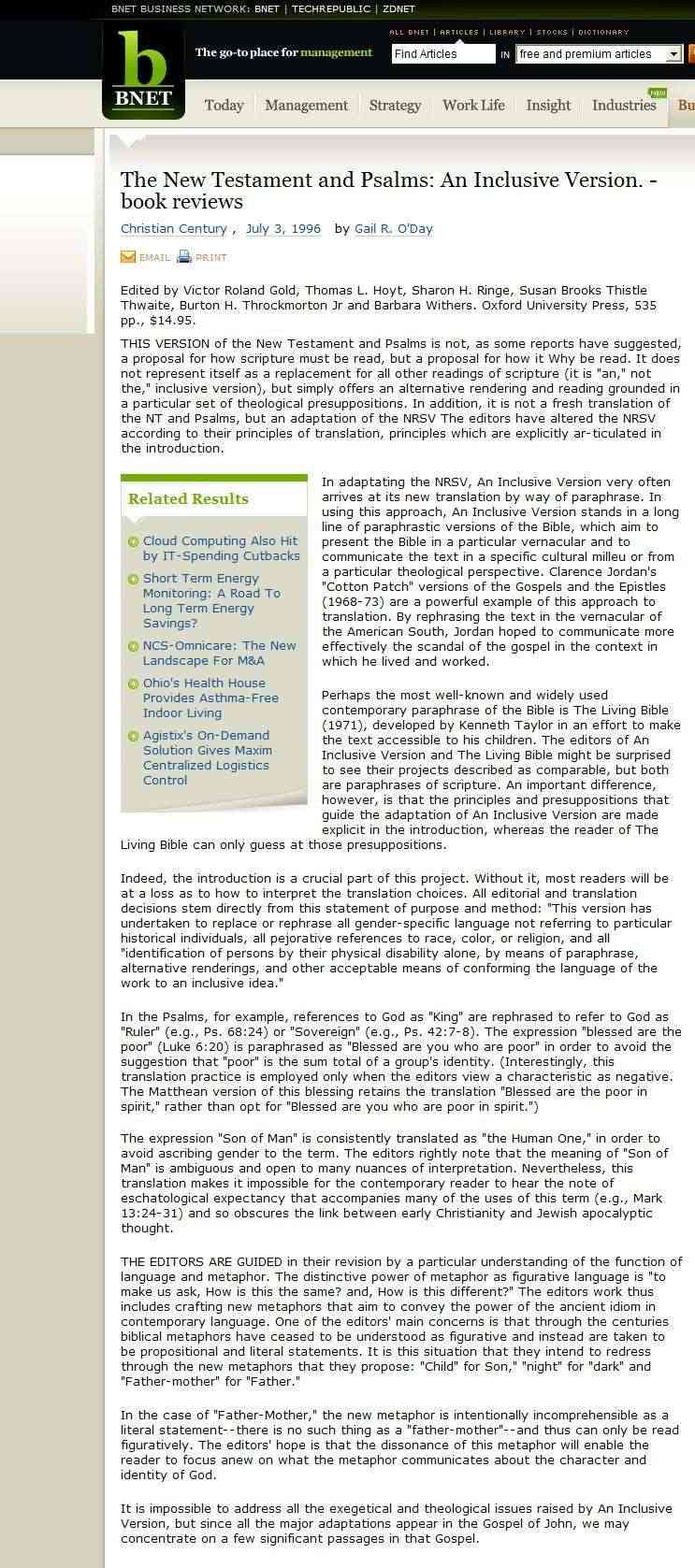 The New Testament and Psalms: An Inclusive Version
Victor R. Gold, ed., New Testament and Psalms: An Inclusive Version. New York and Oxford: Oxford University Press, 1995.
Edited by Victor Roland Gold, Thomas L. Hoyt, Jr, Sharon H. Ringe, Susan Brooks Thistlethwaite, Burton H. Throckmorton, Jr., Barbara A. Withers. This is a politically correct adaptation of the NRSV which eliminates all "offensive" language in the Bible. "God our Father" (offensive to women) is amended to "God our Father-Mother." "Darkness" as a metaphor for ignorance (offensive to blacks) is amended to "night." References to God's "right hand" (offensive to left-handed people) are amended to "mighty hand." The exhortation to "obey your parents" (offensive to children) is softened to "heed your parents." The introduction explains:
This version has undertaken the effort to replace or rephrase all gender specific language not referring to particular historical individuals, all pejorative references to race, color, or religion, and all identifications of persons by their physical disability alone, by means of paraphrase, alternative renderings, and other acceptable means of conforming the language of the work to an inclusive idea.
In an attempt to justify their alterations the editors appeal to the idea that "Christians in every culture around the world want to hear their Bible in the language of their time."
"Why do we need so many versions of the Bible?" people often ask whenever a new one is introduced. The answer is twofold. First, we need new versions because the languages into which the Bible is rendered (hundreds worldwide) are themselves changing. New words and expressions come into use and older expressions fall out of use, seem tired and trite, or do not convey much meaning at all. Do we ask "whither" we are going, or claim that we are going "thither"? No, we ask "where" and go "there." Christians in every culture around the world want to hear their Bible in the language of their time, speaking specifically to them, as well it should.
But they seem to realize that not everyone is up to speed with the PC language, and so they express the hope that their version will "influence the development of important changes in language."
This new, inclusive version of the Bible not only reflects the newest scholarly work on the most reliable manuscripts available, it also reflects and attempts to anticipate developments in the English language with regard to specificity about a number of issues such as gender, race, and physical disability. Bibles are widely read and therefore can serve to influence the development of important changes in language. Martin Luther's translation of the Bible into the German spoken by the common people in his country is an example of this. Luther's translation helped to develop and unify German as not only a spoken, but also a written language.
Typical of the version is the treatment of John 5:26–27, in which all masculine words for God are eliminated:
King James Version
26 For as the Father hath life in himself; so hath he given to the Son to have life in himself; 27 And hath given him authority to execute judgment also, because he is the Son of man. 28 Marvel not at this ...
Inclusive Version
For just as God has life in Godself, so God has granted the same thing to the Child, and has given the Child authority to execute judgment, because of being the Human One. Do not be astonished at this ...
At this tortured rendering one academic reviewer quipped, "Who could help but be astonished? The language neuterers now make an additional step of exegesis necessary: The fixation with leveling out differences must first be decoded before the meaning of the text can be considered." 1
--------------------------------------------------------------------------------
1. James R. Edwards, review article in the Journal of the Evangelical Theological Society 41 (March 1998), p. 127.
--------------------------------------------------------------------------------
"The PC Bible"
Wall Street Journal Editorial Page
September 5, 1995
We suppose it had to happen. Sooner or later someone was bound to notice that the Word of God isn't politically correct.
Sure enough. Out from Oxford University Press this month is a new translation of the New Testament and Psalms that purports to set things right. This "inclusive" version is intended, the introduction says, to "provide direction and sustenance to those who long for justice."
The injustices, it seems, are legion. In case you hadn't noticed, let us deconstruct the Scriptures for you, as seen through the eyes of the six American scholars who edited this new volume. We swear on a stack of King James Bibles that we aren't making up the following:
To start with, all those "begats" favor fathers over mothers. Out they go, and whenever the wife of a biblical husband is known, the editors add her name. Out, too, are metaphors about darkness as evil and light as good, which, we are told, are offensive to people of color. Similarly, references to the blind, the deaf, and the lame are insensitive to people with disabilities, and so they are changed to "those who are blind," etc. And isn't the phrase "right hand of God" unfair to those who happen to be left-handed? "Mighty" hand is more sensitive.
Language of abuse and servitude is also out. Hence, "slaves" become "enslaved people"; and parents "guide," not "discipline," their children, who in turn are told to "heed," not "obey," their parents. References to "circumcision" are vexing, but the editors sadly concede that they can't come up with an adequate gender-free substitute.
But the big challenge comes in how to deal with God him-, her-, it-self. The editors' solution is to ban pronouns and keep repeating the genderless word "God." The words "Lord" and "King" are also taboo ("Ruler" or "Sovereign" is substituted), and the patriarchal "Kingdom of God" becomes "Dominion of God." As for God the "Father," in this version, it's always "Father-Mother." Satan, feminists take note, gets similar gender-free treatment.
References to Jesus pose particular problems of their own. The words "he" and "son" are permitted in mentions of Jesus's life on earth. But the pre-existent and post-crucifixion Christ get no gender. "Master" becomes "Teacher" and the doubly offensive "Son of Man" becomes "the Human One."
Needless to say, none of this is very poetic. It's also pretty pathetic to watch theologians waste their time worrying that a left-handed, blind, black woman might somehow think that the Bible excludes her, when the main message of the text teaches exactly the opposite. Apparently the contemporary equivalent of pondering how many angels can fit on the head of a pin is to calculate the number of gender offensive words in the Bible. The theological seminaries aren't immune to the cultural and linguistic extremism that flourishes on many university campuses these days, where words like "freshman" are verboten.
Last edited by Admin on Sun Mar 29, 2009 11:19 pm; edited 1 time in total
NIV, NASB et al. TRACT EXCERPTS FROM NEW AGE BIBLE VERSIONS
OVERVIEW
"THEY WORSHIPPED THE DRAGON"
Revelation 13:14
THE MESSAGE
The emerging 'new' Christianity — with its substitution of riches for righteousness, a crown for a cross, and an imitation for a new creation — is shown to be a direct result of the wording in new versions. Documented are the thousands of words, verses, and doctrines by which new versions will prepare the apostate churches of these last days to accept the religion of the Antichrist—even his mark, image, and Lucifer worship.
"BEWARE OF THE SCRIBES"
Luke 20:46
THE MEN
Each page opens a door exposing new version editors — in agreement with Luciferians, occultists, and New Age philosophy — in mental institutions, seance parlors, prison cells, and court rooms for heresy trials— and most shocking of all — denying that salvation is through faith in Jesus Christ. Five have lost their ability to speak.
THE MANUSCRIPTS
The Greek manuscripts, critical editions, lexicons and dictionaries behind the new versions are examined, revealing their occult origins, contents, and yet unreleased material — a blueprint for the Antichrist's One World Religion and government.
Presented also is the latest research proving the Authorized King James Version represents not only Christiantity's earliest and most widely used Greek tesxt, but is the easiest version to read according to computer analysis based formulas from the Flesch-Kincaid research firm.
This book is not for those practicing churchianity..., August 30, 2000
By "godsgr8" (USA) - See all my reviews

I read this book and could not put it down. I finished it and then read many of the (unfounded) accusations against the author (If you can't discredit the message, then discredit the messenger?) I searched through the massive index of documentation at the end of Mrs. Riplinger's book with the intention of finding her wrong. Two years later, I am unable to find discrepancies in her statements. In fact, I have been led, by my search, to now study Greek. What I have found is that G.A. Riplinger is so close top the truth that the saying, "Truth is stranger than fiction" would be a gross understatement here.
I have re-read this book. Find it to be well reasearched and well documented. I have bought single copies, and even a case-full and distribut ed them free to church members and family.

The information presented in this book is detrimental to the "collaborators and conspirators" of the so-called "modern-versions." Get this book and share the informatiotion with every Bible believer that you know.

This book is not for those who are spiritually blinded, brain-dead, or those practicing "churchianity."

Information is wisdom, March 7, 2002
By Bill Swann "Golfing fool" (Marietta, GA USA) - See all my reviews
(REAL NAME)

As I read negative review after negative review of this book, I was struck by one repeated phrase. "While some King James only people have a valid point of view", and then rip Dr. Riplinger. Satan comes to deceive, confuse, and bewilder. The Bible is the infallible word of GOD. If you are a Christian, that much you absolutely have to believe. Therefore if you have two books both purporting to be the Infallible WORD OF GOD, and they differ, one is completly wrong. There can be no half rights, only absolutes. Finally read the Preface of any translation you pick up, the men who worked on the Authorized KJV 1611 didn't believe themselves to be infallible, compare the sincerity in that preface to any other traslation.
Dr. Riplinger knew she would be attacked by the minions of Satan when she wrote this and her other works proclaiming the singular truth that the 1611 KJV is the true translation of the INSPIRED WORD OF GOD. No matter how many reviews rip her books to shreads, anyone who reads her books completly will have a greater understanding of what this war of words over translations is really all about.

Exposing Satan's Subtle Perversion of the Scriptures, May 6, 2002
By Stephen McGinty (Gilbert, AZ United States) - See all my reviews

This is a must read for Christians. It exhaustively exposes the attempt of the New Age scribes to pervert the Holy Scriptures with new Bible versions such as the NIV, NASB, Living, etc. If you have intertained the idea of using some of the modern Bible translations other than the Authorized King James Version, please read this book first. What a blessing this work is.

One of the Most Important Books Ever Written, March 2, 2009
By Rashad Tatum (GA) - See all my reviews

Gail Riplinger penned one of the most important books written in our time. New Age Bible Versions dismantles textual criticism and it's high priests. For far too long, Christians have succumbed to the barrage of lies that critics of the pure word of God have propagated. New Age Bible Versions reveals how corrupt Satanists modified the word of God and then proceeded to deceive Christians into accepting an anti-christ bible. Many will refuse to hear this message because it goes against what they have been taught. Let them answer these questions: Is the word of God perfect? Is your bible perfect? If not, how can it be the word of God?

Hey you! Yeah you! Read this review., July 17, 2008
By Aaron F. Walton "A. F. Walton" - See all my reviews


Neat, got your attention. Here is the deal. A few months ago I laughed at KJV-Onlyests, but I really did not understand the position. I now have the book by James White "The KJV Controversy", he does not illustrate the position properly, neither does anyone else!

This book is good, because she is NOT writing about KJV-Onlyism she is writing about "NEW AGE BIBLE VERSIONS" the idea of the New Age is to synthesize the current religions into one Religion, if you have read Apologetics ("The Kingdom Cults") or New Age material ("Toward a World Religion" by Lola Davis), you would know their operation. The changes in versions are subtle.

I was the Greatest Greek student in my class, I got 107% on the final. I loved Greek. I love all biblical studies, I had also gotten into textual criticism... The Lord's prayer in Luke 11 is shorter in the New Versions is shorter because of a 2nd Century witness to this reading, his name is Marcion, if you look him up in the dictionary you learn he is a heretic! Irenaeus wrote of how he was a Gnostic and cut parts out of Luke's gospel. This convinced me there was something not good going on!

No one can refute any of her evidence in this book, everyone just says "She is talking about W.W. Westcott!" while her source is "The Life and Letters of B.F. Westcott" which was compiled by his son.

Consider this book, it is very good. (Note the ratings of the book, everyone says 5 or 1. Most who say 1 have probably read James White's book, where he makes the claim she is referring to the wrong guy, and how KJV-Onlyests are crazy.)

Enjoy!
Last edited by Admin on Mon Mar 30, 2009 12:32 pm; edited 3 times in total

---
Permissions in this forum:
You
cannot
reply to topics in this forum