4. The Secret Rulers of the World - Vatican Hoarding [4/29] - PART 4 IS MISSING


THE POWERS OF THE CHAIRMAN OF THE COMMITTEE OF THREE, QUENN ELIZABETH: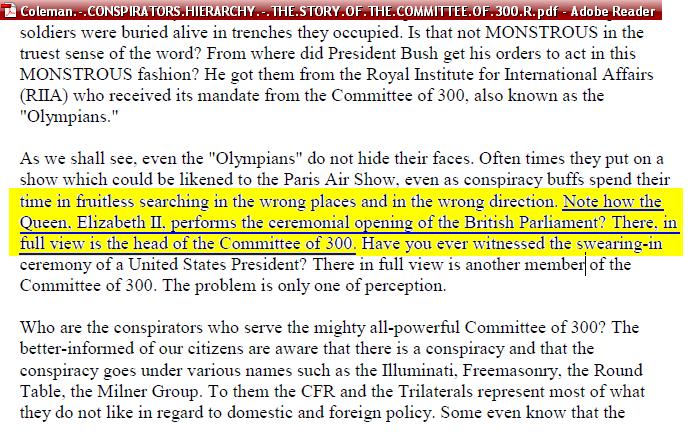 14. The Secret Rulers of the World - Godfathers Rothschild [14/29] The source of most if not all our woes, revealed (from the present to the past): Connecting the dots through 5000 years of revisionist human history, spanning from the time of the pharaohs, all the way up to the present dynasties creating the New World Order, in a quest to perfect the enslavement of mankind. From pirates to banksters, to the ruling elite, who run the world's finances, the media and cover both side of nearly every conflict or war: the world may make more sense after watching this. About the Producer: As a child, she had many arguments between her parents over her father's ring, inscribed with "G", a compass and square. At a later age, years of intensive research led her to the identity , history and plans of a power "so organized, so subtle, so watchful, so interlocking, so complete, so pervasive" that even the known 'leaders' of the world are careful not to speak in "condemnation" of it. "Protocols of Zion" is the NWO Blueprint
http://www.savethemales.ca/000205.html
The New World Order (NWO)
http://www.educate-yourself.org/nwo/
THE PROTOCOLS OF THE LEARNED ELDERS OF ZION
http://www.biblebelievers.org.au/przion1.htm
THE ROTHSCHILD DYNASTY
http://www.biblebelievers.org.au/slavery.htm
The Rothschild Bloodline
http://www.theforbiddenknowledge.com/hardtruth/the_rothschild_bloodline.htm
The power of the Rothschilds
http://www.rense.com/general77/POWERS.HTM
The Truth Seeker - The Rothschilds
http://www.thetruthseeker.co.uk/category.asp?ID=39
Did Rothschild Write The Protocols of Zion?
http://www.the7thfire.com/new_world_order/illuminati/Henry_Makow/did_rothschild_write_the_protocols.htm
The Money Masters - How International Bankers Gained Control of America
http://video.google.com/videoplay?docid=-515319560256183936
The Money Masters: How International Bankers Gained Control of America
http://users.cyberone.com.au/myers/money-masters.html
http://www.911truth.org/
Scholars for 9/11 Truth
http://911scholars.org/
Why Doubt 9/11? by James H. Fetzer
http://twilightpines.com//index.php?option=com_content&task=view&id=17&Itemid=46
Scholars for 9/11 Truth & Justice
http://stj911.org/
THE ROTHSCHILD'S WORTH IS 500 TRILLION DOLLARS, MORE THAN HALF THE RICHES OF ALL THE WORLD:
https://www.youtube.com/watch?v=asUsWBEw87U

---
Permissions in this forum:
You
cannot
reply to topics in this forum